Available Sizes: 9.7"/10.1"/10.4"/12.1"/12.5"/13.3"/15"/15.6"/17"/18.5"/19"/21.5"/23.6"/23.8"/24"/27"/32"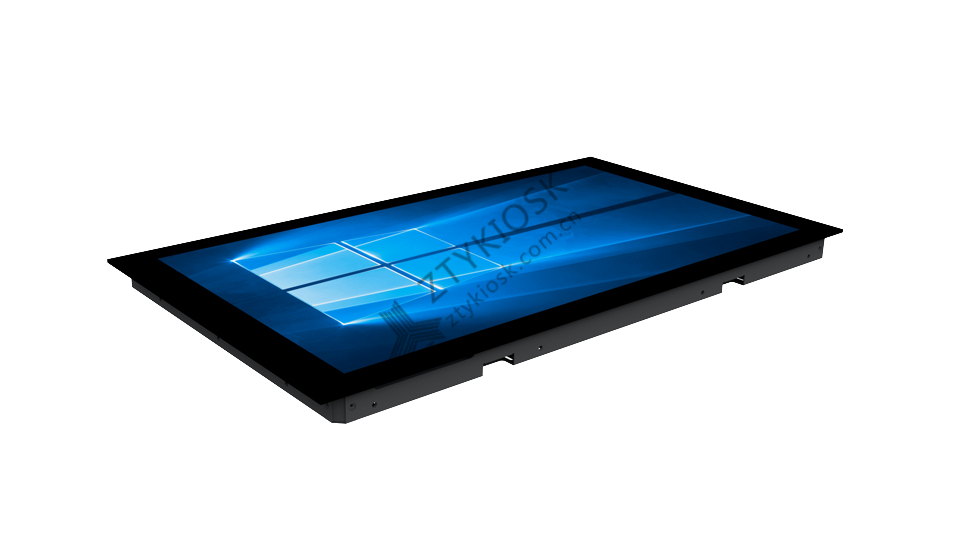 Open frame touch monitor/display is specially designed for various kiosk cabinet applications, such as bank's ATM, subway tickets machine, self-boarding machine, vending machine, etc. Such touch monitor features with compact structure, faster installation, high cost –effective, etc.
ZTY open-frame touch monitor lineup includes 3 types of structural configurations: plastic middle frame, metal front cover and bezel-free. The plastic middle frame touch monitors blend our patented designing and there are 5 basic models currently, 15.6"/17"/18.5"/19"/21.5"; the metal front frame and bezel-free touch monitors support size from 9.7" to 24" applications and feature with high customizing capabilities.
All of our open-frame touch monitors employ Projected Capacitive (PCAP) touch technology; it features with rapid touch response, high touch accuracy, durability and reliability. We also provide other touch technologies for option, eg. SAW(Surface Acoustic Wave) and IR(infrared).
Reliable and Durable Touch Experience
All open-frame touch monitors are equipped with the Projected Capacitive (PCAP) touch technology, it the most advanced touch technology currently, features with 10-point multi-touch, rapid response, high accuracy, no touch pressure required, dust and water proof, ultra durability, etc. brings super excellent touch experience to users. Furthermore, for special applications, the PCAP touch screen can be customized, including anti-vandal, anti-EMI. We also provide other touch technologies, such as SAW and IR for option.
Open-frame with Patented Designing
The patented designing plastic frame is made by molding injection and features with high precision and consistency; The plastic frame holds touchscreen seamlessly to achieve anti-dust and water; the sunk designing of the frame border makes the touch monitor be flush mounted with various cabinets, it brings excellent appearance to customers; The kit combined touchscreen and plasticframe is fixed with chassis via screws, not as same as the others by using adhesive tape, it simplifies production procedure and improves serviceability significantly.
Customized Open-frame Touch Monitor
The open-frame touch monitor with metal front cover features with flexible customization capability with low engineering cost and rapid deliver, including special size and supporting built-in different thickness PCAP touch screen. Such open-frame touch monitor is very suitable for industrial control applications, for example, the rear maintenance touch display for ATM and AFC machine. This kind touch monitor with size from 10.1" to 24" is available currently.
Bezel-free Open-frame Touch Monitor
The bezel-free open-frame touch monitor has the simplest structure, the PCAP touch screen is fixed to LCD panel with double-side adhesive tape, the combination of rear chassis and circuit boards is assemblies with LCD panel via screws. the front surface of the touch monitor is completely flat, it helps all touch terminals to achieve more elegant appearance. This structure designing also support flexible customization, the monitors with size from 9.7" to 24" are available now.